It's fair to say I read a lot. I love books and always have a few stacked up next to my bed for a quick (or long) read before I fall off to sleep. I also love books for work, since although there is a huge amount of resources on the web, published books distill expert knowledge, are peer-reviewed and are a great way to get a good overview of a particular subject.
I've also always wanted to track what I read in a year, but never quite got around to it. So I'm going to attempt that in 2017, amongst other fun things I have planned.
Yesterday I finished my first book of 2017, the superb dark Wonderland-esque novel Neverwhere, by Neil Gaiman. I first read Gaiman in the hilarious Pratchett and Gaiman co-written novel Good Omens many years ago. Last year I first discovered the Radio 4 adaptation of Good Omens (excellent, especially the casting of Aziraphale and Crowley), read some of the famous Sandman comics, and then hunted out some Neil Gaiman novels to read. Since I follow Neil on Twitter I spotted some rather wonderful new US editions with evocative cover art (see image above). After reading the amazing American Gods and beguilingly beautiful Stardust I started reading Neverwhere.
It's a fantastic tale of people who fall through the cracks in London into London Below, a fantasy world of the homeless and unwanted, magic and myth, lost underground stations, and fantastic characters with meaningful names such the Marquis de Carabas, Door, Earl's Court, and Angel Islington.
I thoroughly enjoyed the novel, and since I've discovered Gaiman 20 years after he wrote Neverwhere I'm lucky enough to have a host of other material to read. The book I bought contains his follow-up short story How the Marquis Got His Coat Back. I've also bought the BBC Radio 4 adaptation of Neverwhere and plan to grab a copy of the original BBC TV series. And the best of all, in the intro to the short story Gaiman suggests he is going back to the world of Neverwhere in the near future.
Since I tend to have a few books on the go at once, my current reading list is..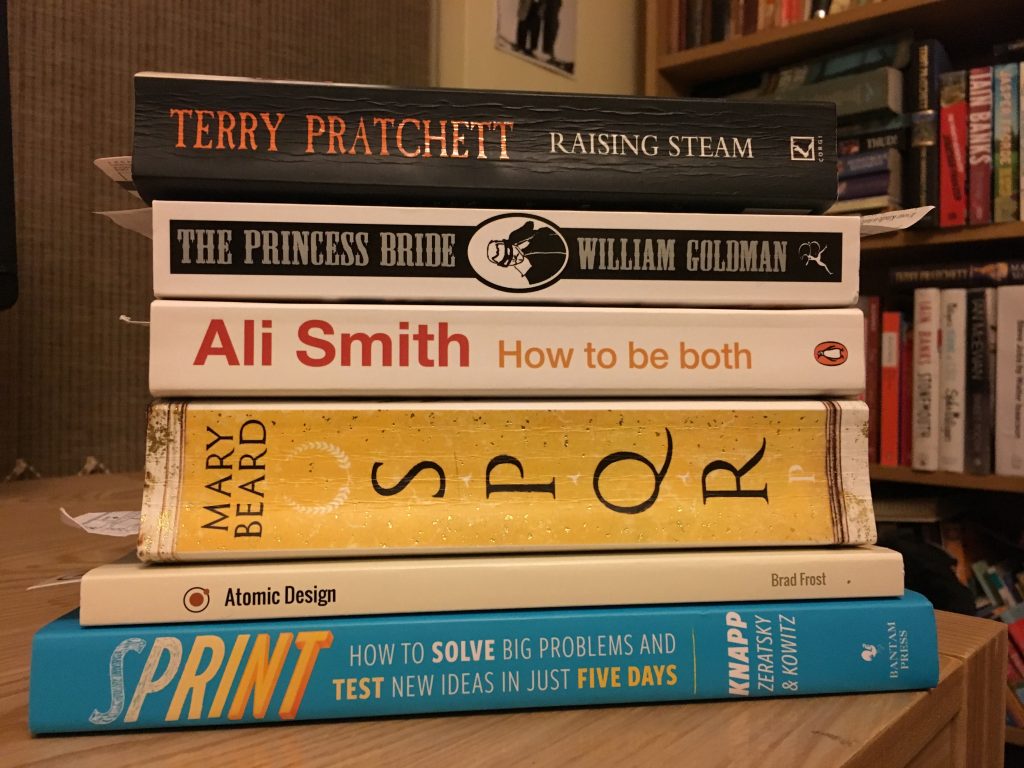 So at present that's one book read in 2017 and 6 in-progress!