I've just returned from an excellent talk organised by Cambridge Judge Business School's Entrepreneurship Centre. Simon Hall hosted a fascinating discussion with Google leaders Jonathan Rosenberg, Senior VP of Alphabet and former Senior VP of Google Products, and Alan Eagle, Director of Executive Communications at Google.
The talk was primarily about the value of coaching, and was celebrating the life of Silicon Valley luminary Bill Campbell (who I admit I did not know), business coach to Steve Jobs, Eric Schmidt and others.
The event was primarily targeted at CJBS students though there was a fair crowd of entrepreneurs and local business types, I chatted to a few after the talk.
Two things happened in the talk I wasn't expecting. First, quite how entertaining Jonathan and Alan were together. They were clearly good friends and had a hilarious double act going on between them. Alan's description of how Bill Campbell grilled him in a job interview was brilliant as he made Simon stand in for himself while he channeled an intimidating Bill (there's a good photo of this moment here).
Secondly, everything Alan and Jonathan said was focussed around human values. How important empathy and developing your team is to business success and how coaching is a great way to achieve that. I wasn't expecting the talk to be focussed so much on how important human-centered values are to business, but I was very glad to hear so much from the two Silicon Valley business leaders that I found myself agreeing with.
A few notes from the talk…
Interview as much as you can, good to learn how to tell good people.
A good question to ask about experience: What did you learn from this?
If you have to let someone go do it with dignity. Why? Because it's the right thing to do. Because it will affect the rest of your team if you don't. Because it's a small world, people who you let go may be future opportunities / they may talk about your business.
5 elements of a successful team:
Safety
Clarity of goals
Respect
Big mission that matters
A meaningful role
Find out more at Project Oxygen
An effective manager needs to marry the principles of coaching with management.
Important future tech skills (Alan repeated this a lot):
Computer science
Machine learning
Data
Soft skills:
Passion, interest in learning
Smart creative dedicated to learning
Good communicator, concisely make your point, speak with passion
Important for Google's success: Speed & simplicity
All sorts of latency exist so speed really matters. Fast results makes people come back.
The concept of no managers didn't really work for Google. We had this for 18 months or so. Asked team and they wanted someone to mentor them & take decisions.
Engineers need a career ladder to rise to the highest level in a company without having to be managers. If you're the most senior engineer the impact you can have on a tech company is profound & you should be paid the same / more than managers. Not many companies do this.
Guide & lead, give people freedom. Don't micromanage.
There was a question about whether too much growth is bad. Seems not. You can hire brilliant people off the back of fast growth. With an internet business you can often support fast growth. Don't worry about getting everything right / perfect.
Great quote: "If everything's going right you're not going fast enough"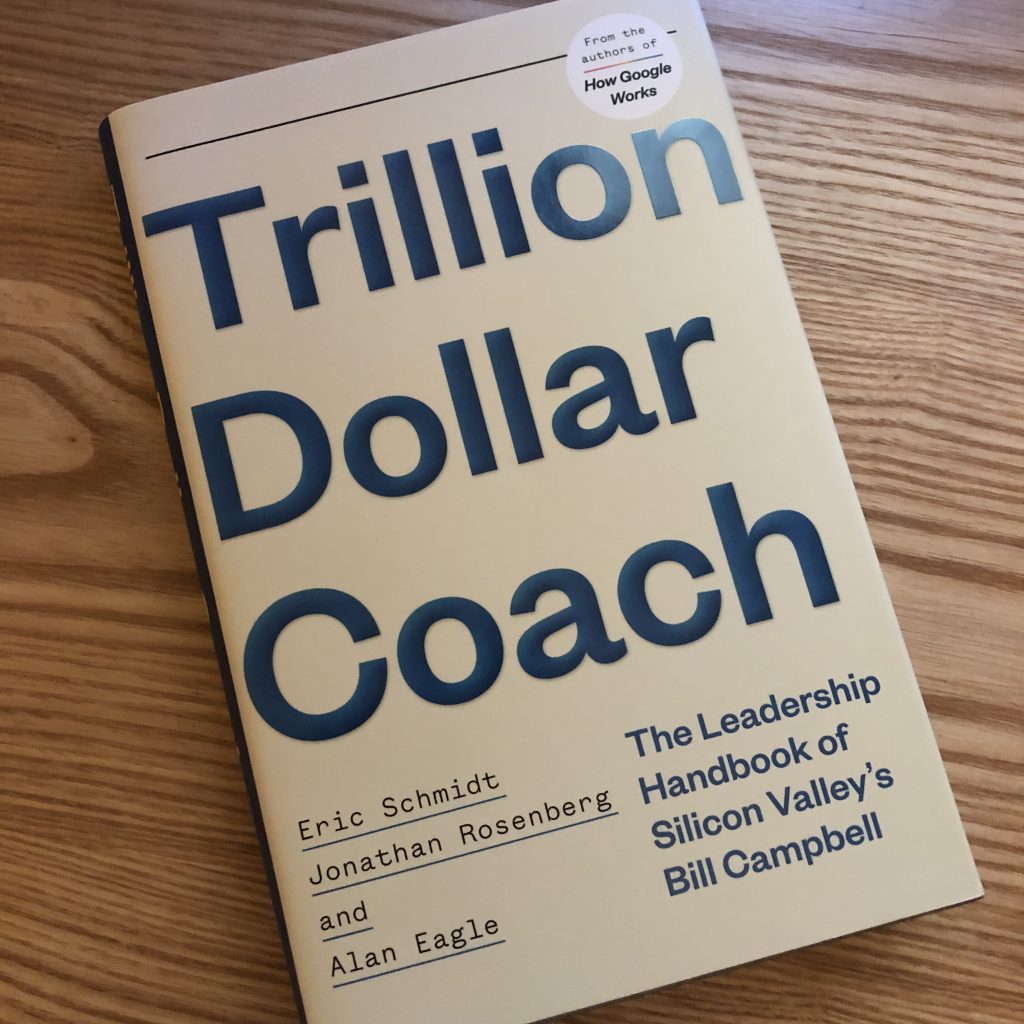 You can read more in their latest book, Trillion Dollar Coach, available from all good bookstores. I'll be enjoying the copy I bought this evening!